The front door is where home begins. It's the entryway to special moments with family and friends. When the door opens, it signals a warm welcome. And when it's closed, it provides security. So we've designed two new products that help make your front door safe and secure, yet still keep it friendly and welcoming.
Nest Hello video doorbell. Know who's knocking.
Many people come to your door each day. A doorbell is the first thing they look for, so we made Nest Hello easy to spot. Its light ring pulses when someone approaches, letting your visitor know where to ring the bell. And when they do, Nest Hello keeps things friendly.
Because Nest Hello can detect a person, you'll get an alert even before someone rings the bell. You can see who's there from the Nest app and have a conversation. It's designed to be a natural experience – not like talking to a bulky, techy black box. You and your visitors will hear each other loud and clear, without street noise and echoes. And if you can't answer the door, just choose a quick, pre-recorded response like, "Just a moment, we'll be right there." Even these messages are warm and human, created with your visitor in mind.
The front door is also a place prone to package theft. So Nest Hello sends you an alert when someone's there, even if they don't ring. If it's someone suspicious, just say something to scare them away, or use one of the pre-recorded messages. Even a simple "Can I help you?" helps keep packages safe.
We announced Nest Hello in the fall, and it's available now at Best Buy, Home Depot, Lowe's, and nest.com.
Learn more about Nest Hello.
Nest x Yale Lock. See who's there. And let them in.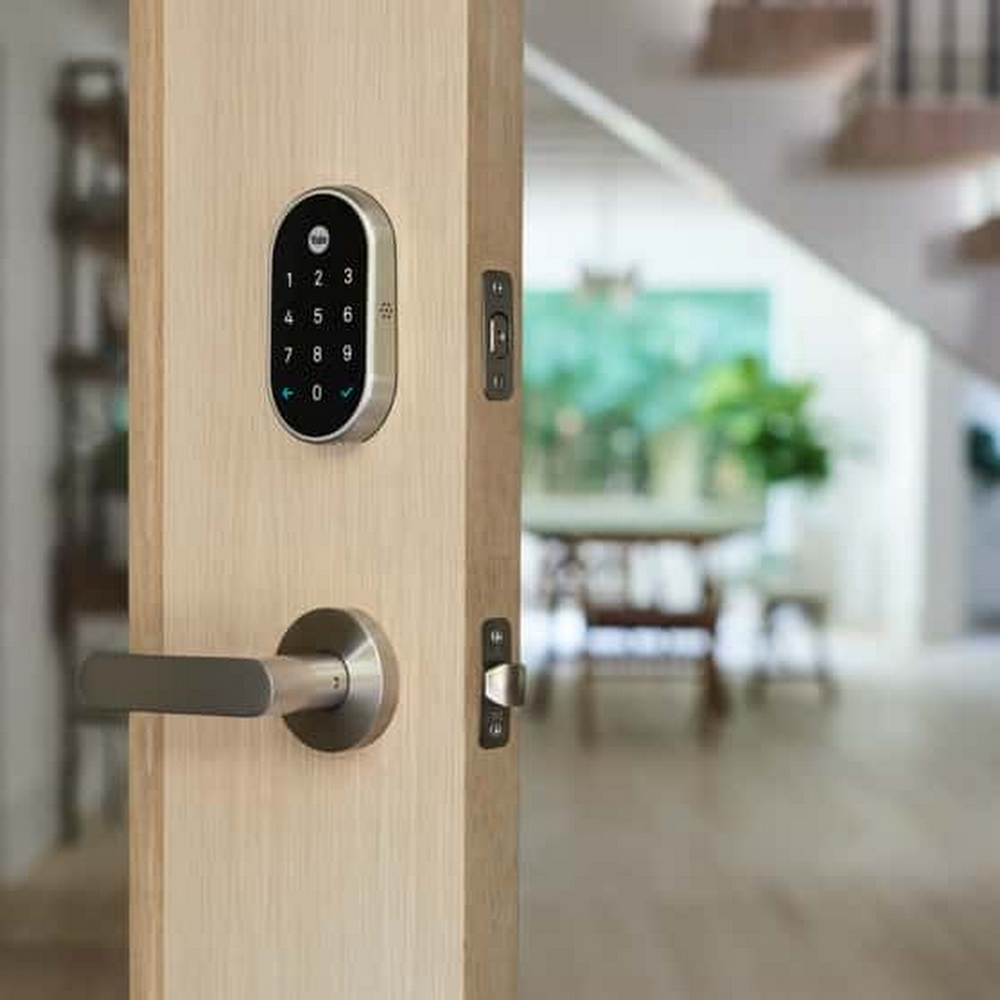 Your front door lock is one of the most essential parts of home security. Yet keys can be lost, misplaced, forgotten, or duplicated. They're easy to hand out and hard to get back. And you're never sure who entered your home and who left. We think your lock should be better than that. It should be easy for people you trust to use – without the fear of getting locked out. It should let you know who comes and goes. And it should be connected to your other security products, like your cameras and alarm system. Introducing the Nest x Yale Lock.
To design our first connected lock, we partnered with Yale – one of the best-known and most respected names in the industry. They've been building secure locks for over 100 years. With Yale's expertise in locks and our expertise in the connected home, your front door is even more secure.
The Nest x Yale Lock is key-free and tamper-proof. It connects to the Nest app, so you can unlock the door from anywhere. Create custom passcodes for people you trust and decide when they work, so not everyone can get into your home at all hours. You'll get an alert on your phone whenever someone locks and unlocks the door. If someone forgets their passcode, just let them in from the Nest app. And you'll never forget to lock the door, because it can automatically lock itself when Nest knows you're away with Home/Away Assist. The Nest x Yale Lock is available on nest.com.
Better together.
Nest products are designed to keep your home secure, outside and in. And with the addition of our new lock and doorbell, they work even better because they work together. When you unlock your door with the Nest x Yale Lock, the Nest Secure alarm system disarms automatically, without you having to tap your key fob or use the Nest app. Your indoor cameras turn off to protect your privacy, and your thermostat turns up to make you cozy. All automatically.
And when someone's at the door, see who's there with Nest Hello or your Nest Cam outdoor security camera, then let them in. With Google Assistant-enabled hardware, just use your voice to control Nest products. Ask Google to arm Nest Secure. Or have Google announce "Someone's at your door" when your Nest Hello rings. Google can even tell you who it is – if you add a Nest Aware subscription to your Nest Hello, you'll get familiar face alerts.
For Nest Secure owners, soon you'll find new features in the Nest app settings. Choose the instant alarm, so the alarm goes off right away when someone opens a door or window. And enable the door chime, so you know when a door or window opens while the alarm is disarmed. You'll know when your kids go out the back door or someone lets the dog out. This free software update will be available automatically in the coming weeks.
Keep your home even more comfortable.
When you come in the door, your Nest thermostat is already working to keep your home cozy. And now, you can let your thermostat know what room should be the most comfortable. We're excited to announce the Nest Temperature Sensor – it's just what Nest thermostat owners have been asking for. In most homes, the temperature isn't the same in every room. Maybe you've noticed the living room is really warm in the afternoon or the baby's room gets too cold at night. Just put a temperature sensor on a wall or shelf in a room that matters most. In the Nest app, choose the temperature you want that room to be, along with a time of day. And your Nest thermostat will make sure that room is just how you like it.
You can add up to six temperature sensors to your home and let your thermostat know which room to prioritize. The Nest Temperature Sensor is available on its own, or bundled with a Nest thermostat. Starting today, pre-order your Nest Temperature Sensor on nest.com.