Today, we told you about what's coming in our latest family of #MadebyGoogle products. But what's a line-up of shiny new products without a plethora of ways for the world to experience, try and buy them? As we continue to build products for everyone, we're exploring helpful new ways to get our products to everyone.
The Google Hardware Store pop-ups
Starting on October 18, New Yorkers and Chicagoans can try out and buy our new products at a pop-up shop in each city—the only place you can shop Google products in a fully Google-made experiential space. Our pop ups will be open October 18 through December 31, so if you're in Chicago (Bucktown at 1704 N. Damen) or NYC (SoHo at 131 Green Street), come visit us.
The Google Store and Enjoy
You can now pre-order and shop all of our products via the online Google Store, including the Pixel 3 / 3XL (that works with all major carriers). And as of October 18, folks in the Bay Area can buy the new Pixel 3 / 3XL and get it delivered as soon as three hours and expertly set up via the Enjoy service. You can also get the Pixel 2XL, Pixelbook and Google Home Max via Enjoy delivery now. We're bringing the Google Store to you!
b8ta
Made by Google products are part of an interactive shopping experience in five b8ta stores across the country, including Austin, Corte Madera, Houston, San Francisco, Tysons Corner, and will be available in two new b8ta stores in Short Hills, NJ and Scottsdale, AZ opening later this year. As a part of the unique in-store experience, customers can test out and shop Google's Home products in interactive home-like vignettes. Visit a store and demo products with one of b8ta's experts.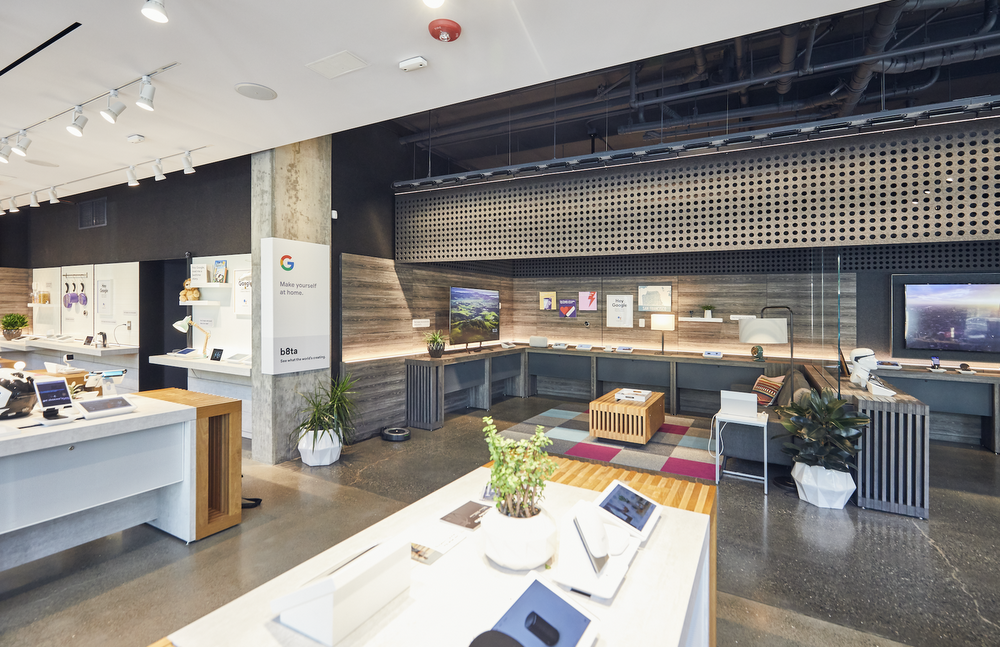 goop
goop is joining forces with Made by Google products to offer the Google Home smart speaker family across the U.S. in permanent goop Lab stores and goop GIFT pop-ups this holiday season. Abroad, customers can shop at the goop London pop-up which opened this past September. Keep an eye out for more information from goop + Made by Google later this month.
And as for the future…
It's a bird, it's a plane. It's Google Home Mini being delivered by drone! You read that right—along with Wing (an Alphabet company), we're pushing the boundaries of conventional delivery. As a part of a small, localized test, Google Home Minis were recently dropped off at customers' homes only 10 minutes after ordering. Although not a reality today, imagine the possibilities in years to come…