Fires were different 40 years ago. It used to take up to 30 minutes for a fire to take over a room. Now it can take less than five. Today's homes have different building materials, synthetic furnishings, open floor plans. And that can make fires more dangerous.
Now more than ever, your smoke alarm should help you – and not just with a beep. It should give you the information you need to get out safely. It should message your phone. It should do more.
House fires have changed. And it's time for your smoke alarm to catch up.
Four out of five firefighters would trust the Nest Protect smoke and carbon monoxide alarm to protect their homes. And today we're announcing the 2nd generation Nest Protect. It's redesigned inside and out. And, once again, we've changed what a smoke alarm can be.
New Nest Protect. New features.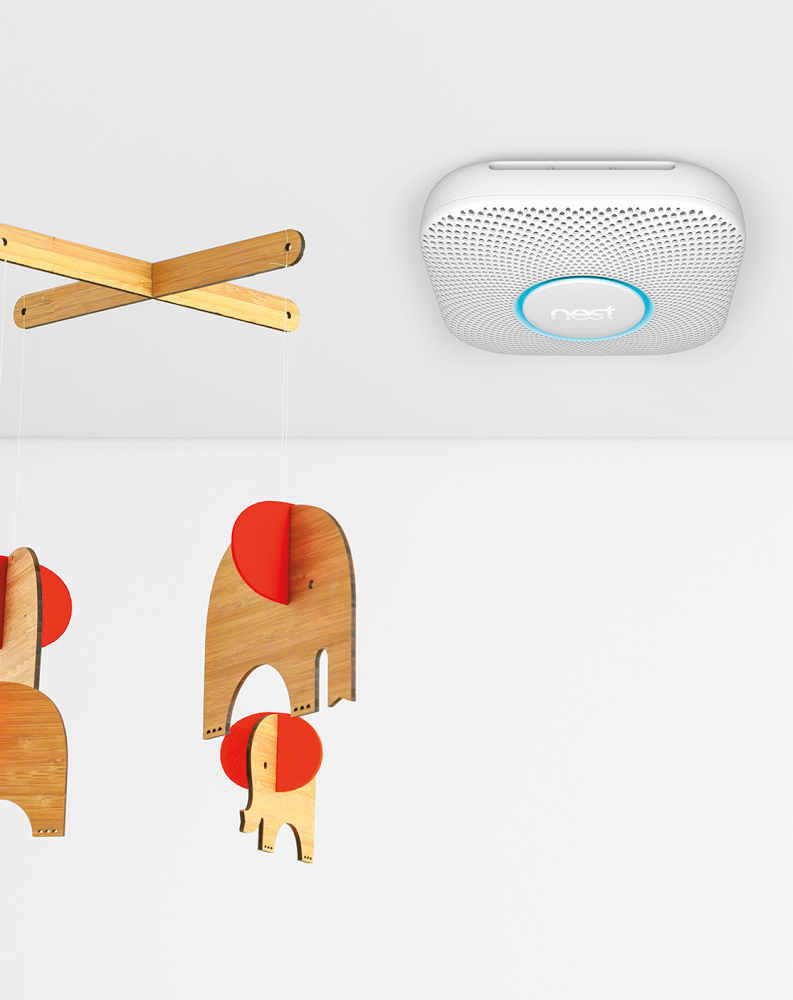 Offices and industrial buildings often invest in a different kind of smoke alarm – one that can do more. So why should your office have more advanced fire-sensing technology than your house? Nest Protect is the first smoke alarm to bring a commercial–grade photoelectric sensor to the home. We call it the Split-Spectrum Sensor – it uses two wavelengths of light to spot different kinds of smoke, which helps it catch both fast and slow-burning fires quickly.
That's important for more than the obvious reason – that catching fires early is better. Because when other alarms notice danger, a piercing sound fills the kitchen as bacon smokes up from the pan. You wave dish towels, search for a broom to hit the alarm with, then tear it off the ceiling. That's not Nest.
With Nest Protect, fast detection means an earlier Heads-Up: a soft chime and voice to let you know that smoke levels are rising. It's an early notification you can easily hush. No panic. No noise. Just lower the heat. Open a window. Make breakfast.
Part of that is thanks to a new smoke chamber, designed to help reduce false alarms. All photoelectric smoke alarms are susceptible to dust and bugs and any tiny particles that can get into the smoke sensor over time. So the second generation Nest Protect has a stainless steel screen with tiny hexagonal holes that let smoke in and keep everything else out. We've engineered this screen to have improved fluid dynamics and it passed extensive air flow testing.
And unlike smoke and CO alarms that need to be replaced after five or seven years, the new Nest Protect is built to last. It has up to a 10-year lifetime, thanks to its new, long-lasting carbon monoxide sensor.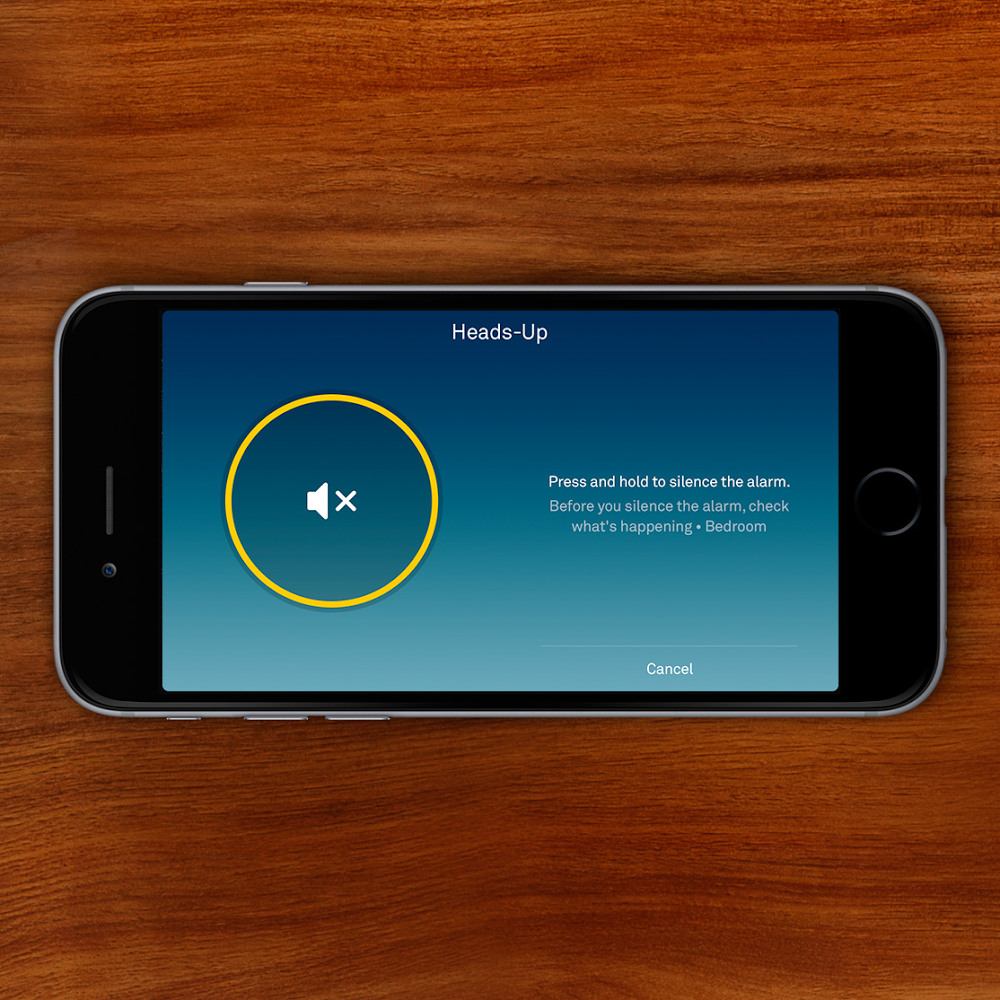 At the heart of any smoke alarm is the sound – the actual alarm that warns you of danger. But if everything's under control, you might not need that sound anymore. So the new Nest Protect has App Silence.
With App Silence you can quiet down an alarm from your phone using Bluetooth LE. No more climbing ladders or waving dish towels. Walk into the room and make sure everything's OK. Then open the notification on your phone – it will open the app where you can press the Silence button. Tap and hold and Nest Protect will quiet down.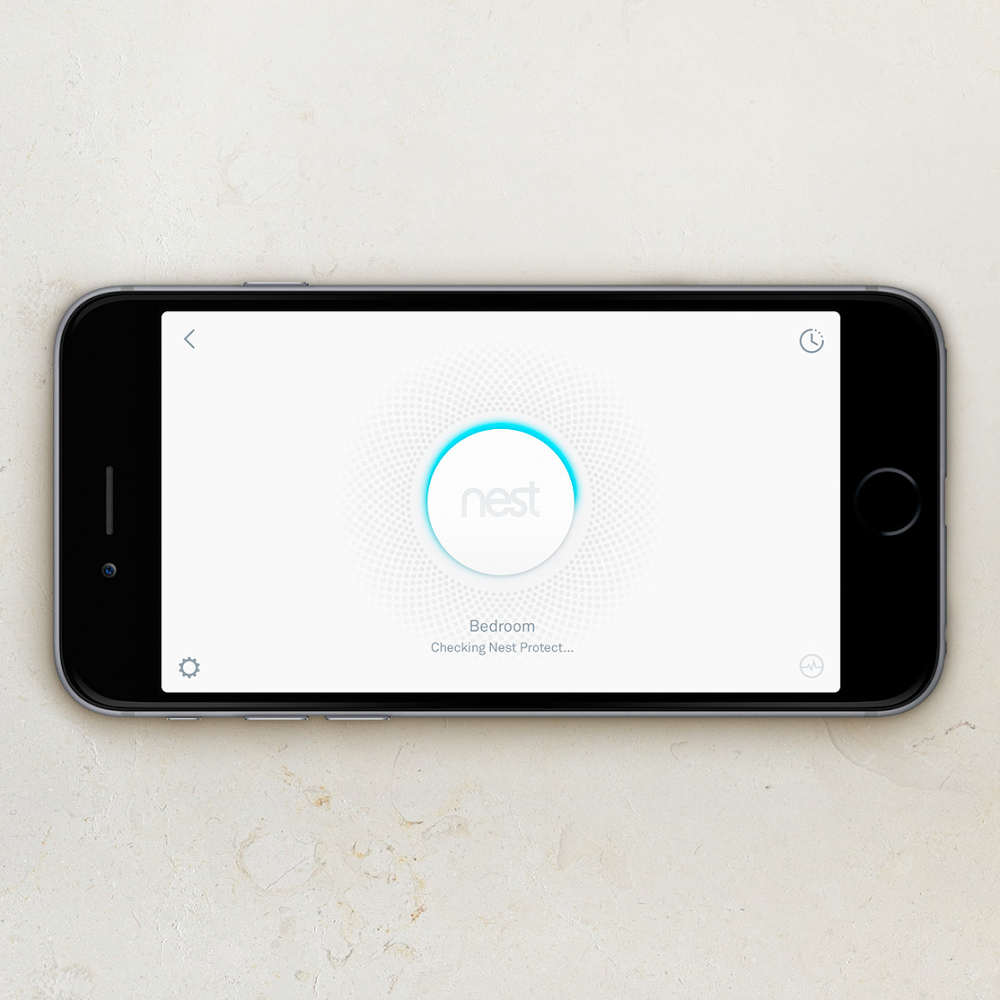 The National Fire Protection Association recommends testing your smoke alarms once a month. That means climbing up a ladder and actually pushing the button on your alarm. But 9 out of 10 people don't. And that leaves you at risk. So with the first Nest Protect, pushing the button tested every alarm in the house. And Nest continuously tested itself. Now we made testing even easier. In addition to testing its sensors and batteries 400 times a day and showing you they're working at night with Nightly Promise, the 2nd gen Nest Protect lets you manually test all your alarms from your phone. We call it Safety Checkup. With it, you can test the sensors, power, Wi-Fi connection, horn and speaker on every Nest Protect in your home with one tap.
And then we took it one step further. To make sure you'll hear it when something goes wrong, the 2nd gen Nest Protect automatically tests the speaker and horn once a month with a quiet one-second chime. It's called Sound Check. And it's thoughtful too – Sound Check will do its best to test its audio when nobody's home to hear it.
New partners. New ways to save.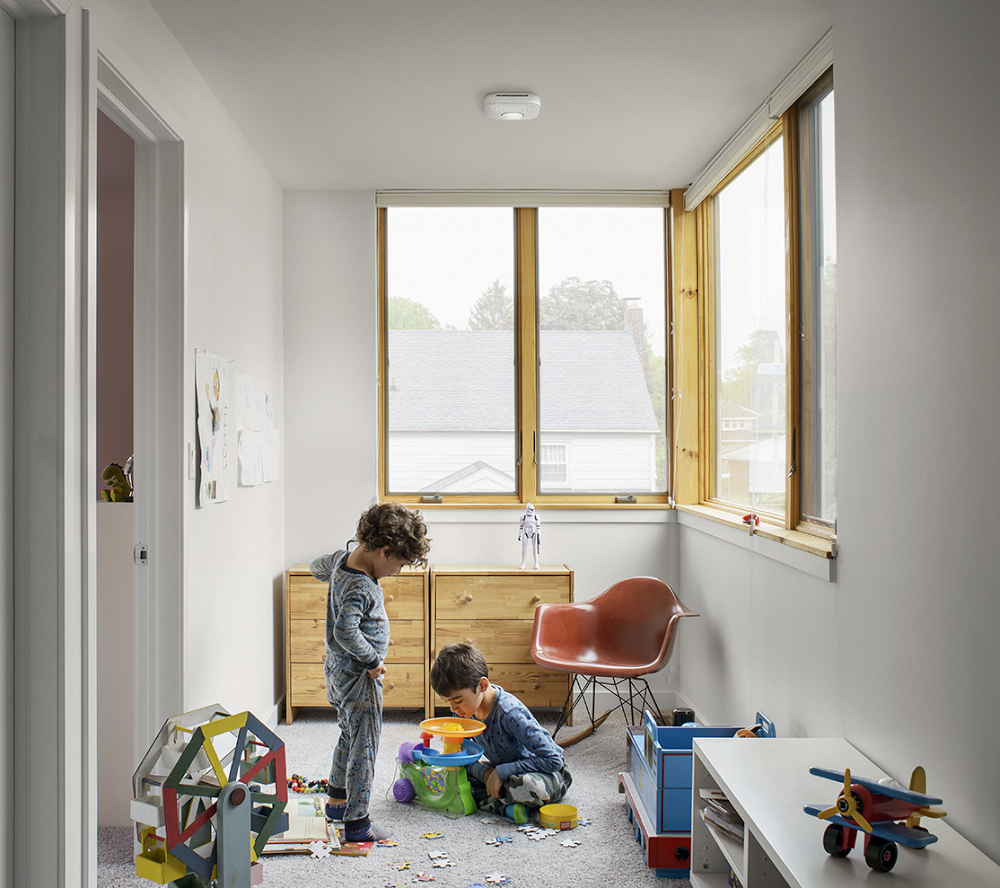 We believe Nest Protect is one of the best ways to keep your family safe from fire and carbon monoxide. We have new insurance partners who think so too. And they want to reward you for being safe.
We're starting with two innovative insurers: American Family and Liberty Mutual.
Our partners will help you get Nest Protect at no cost, or get a discount of up to 5% on your home insurance premiums through a new program we call Safety Rewards. If you have a policy that costs $1,000 a year, you could save up to $50 per year.
Sign up for Safety Rewards and, with your permission, we'll let your insurer know Nest Protect is installed and working. So once a month, Nest Protect will tell them if its Wi-Fi is working, its batteries are charged and its sensors are working. Your insurer won't know if the alarm went off because you burned the popcorn. Learn more about what we share >
We'll be expanding the program and adding new partners in the coming months. So sign up here to find out when a partner is coming to your state.
Nest Protect will ship next month. But you can order now from nest.com for $99.